How a Purpose-Driven Workplace Drives the Employee Experience
March 22, 2021
Amanda Nieweler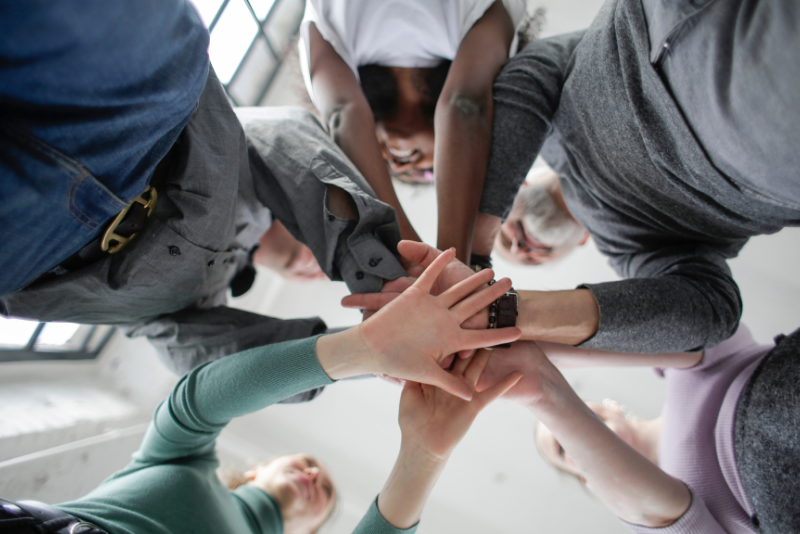 Increase trust and confidence in your organization
This month is B Corp Awareness Month, where we honour businesses that are focused on benefiting their employees, community and the environment. It's also Fraud Prevention Month, which means that it's time to raise awareness of fraud and how to instill more confidence in the marketplace. Why should your business care about these two campaigns?
Because increasing trust and confidence in your organization through purpose-driven principles can not only increase your profit margins but also make your company more favourable among consumers and employees.
Understanding what purpose-driven work is as an employer can help you leverage this powerful tool that enhances employee retention, productivity and even deliver greater stakeholder value.
What Is a Purpose-Driven Work Environment?
A purpose-driven work environment is one where every action is truly embedded in the purpose to leave a positive impact on people's lives. Purpose-driven businesses have an impactful story that their customers and employees can relate to. Whether it's demonstrating their commitment to equity worldwide, supporting local, or showcasing their impact on the environment, purpose-driven branding helps to connect at a deeper level with their consumers and their staff. But it also goes beyond just their image. Purpose-driven work is also about being transparent and accountable for everything the business does. This includes how the products are manufactured to their environmental impact and even how their employees are paid and treated. To achieve such feats, management needs to put themselves in their employees' and customers' shoes, so they can lead by design and example.
How Does it Impact the Employee Experience?
When businesses have policies and procedures in place that show their employees that they care and are aligned with their core beliefs, the staff become far more invested in the company's success. Purpose-driven companies have higher market share gains and even better customer retention as a result.
Something as simple as acknowledging the importance of your employees' values, views, and safety also creates a level of compassion that in turn forms a trust-bond between employers and staff. When employees feel supported, understood and listened to, they tend to invest more time and attention to their work. They are happier and healthier working in a place that has a purpose and drives their operations toward valuable outcomes.
How Can You Start Leading with Purpose?
To join the movement of purpose-driven companies, you need to start implementing certain practices and policies into your day-to-day operations and corporate business plans. Here are just some of the ways you can start leading with purpose and improve your employee experience:
Have an authentic story that is impactful
Be transparent and accountable
Don't just say you care, have practices in place that show you do
Ensure your purpose guides everything you do from hiring to development
Give your employees a voice to express their ideas
Encourage your employees to come forward
Have systems in place for your employees to safely report harassment, misconduct and fraud
Have compliance programs in place to deal with inappropriate behaviour the right way
Foster strong workplace culture
Become a B Corp Certified Company
What Does It Mean to Be B Corp Certified?
B Corp Certified businesses are organizations that meet the highest standards of social and environmental performance. They are accountable and transparent in their actions. To become B Corp Certified, your company will be subjected to the B Impact Assessment that measures the positive impact on their workers, supplies, customers, as well as the community and environment. It accesses the company's day-to-day operations and business model to determine a numeric score. There are also performance, legal and transparency requirements to become a Certified B Corp.
Why Become B Corp Certified?
Showcasing that your business is focused on creating a positive social and environmental outcome for your employees, customers and the community in which you reside, has numerous advantages. What does it mean to be B Corp Certified in your area? Not only will the B Corp Certified logo help to attract customers to your business who are looking to buy from companies who care about sustainability and fair practices, but it can also help entice new employees to join your force. Today, job hunters are looking for more than just a secure paycheck. They are searching for companies who are purpose-driven and truly care about their employee's happiness and success. Becoming a B Corp Certified company shows that you walk the walk, and authentically can demonstrate your commitment to social and environmental practices. Employees seeking meaning in their careers would prefer working with a company that has a reputation as a great place to work and that can prove they have a framework in place that creates the workplace culture they desire.
How Fraud Prevention Can Help You Lead with Purpose
If your staff doesn't feel comfortable coming forward and speaking with management, they might ignore serious ethics issues and fraudulent activity instead of reporting it. How can this impact your business? Not only could it lead to financial loss but also seriously impact the employee experience and the trust your employees have in your organization.
You want your employees to be confident in your organization's procedures. One way to do this effectively is to have a whistleblower hotline where they can safely and securely report wrongdoings without worrying about facing any repercussions. Having a place where employees can voice their concerns shows your employees that you care and are committed to making improvements through action.
A whistleblower reporting system can also help you build confidence in your operations. Having an effective way to deal with fraudulent behaviour not only protects your bottom line but also your employees. If one major scam was to impact your company, it could bankrupt your business and leave your employees without a job. This can provide employees with a sense of security and confidence, knowing that the organization does everything to safeguard their employment and that their opinion is valued and protected.
Are you ready to create a purpose-driven workplace that drives the employee experience?
Contact us at WhistleBlower Security today. Our security solutions can help build trust and confidence in your organization and make an impact that matters to your employees.