Corporate Social Responsibility: Is It in Your Code of Conduct?
April 22, 2015
Amanda Nieweler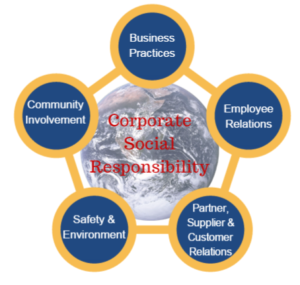 It's Earth Day - How's Your CSR?
Corporate Social Responsibility (CSR) is defined as the voluntary activities undertaken by a company to operate in an economic, social and environmentally sustainable manner. Because today is Earth Day 2015, and this is the only planet we've got (that makes chocolate), there's no better day than today to ensure your corporate social responsibility policy is built into your code of conduct.
CSR is a part of just about every business environment. It's no longer really considered a public relations exercise with philanthropic undertones, or just a legal obligation to stakeholders. Many organizations are doing their part to bring CSR into their framework. And CSR isn't just limited to actions taken on by large public organizations with huge budgets who can afford to donate time and money to bring positive change to a third-world communities abroad. Any business, any size, public, private and non-profit can build CSR into their code. Big or small, most would argue that any business should be:
Accountable for its impact on society, the economy and the environment
Transparent in its decisions and activities that impact society and the environment
Respectful of human rights and recognize both their importance and their universality
Many companies now practice some form of social responsibility, but some are making it a core of their operations. For example, Ben and Jerry's uses only fair trade ingredients and has developed a dairy farm sustainability program in its home state of Vermont. CSR surrounds a wide variety of tactics, from giving a portion of profits to a non-profit, to giving a product or service to a recipient for every sale made.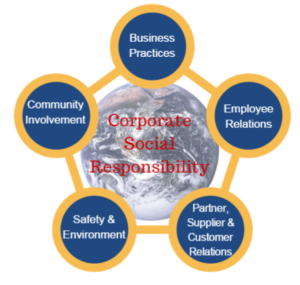 Any company can have CSR built into their codes, from environmental practices to ethical labour practices. However, whatever each unique case, it's critical that employees and stakeholders understand the company's code of ethics and conduct and what the company stands for. Depending on a company's size, industry or location, a code should clearly articulate its beliefs, values, and principles concerning, for example, community participation, environmental protection, human rights, business conduct, employee rights, and health and safety. Strong support and leadership from senior management is essential in conveying these messages to employees. The code is only words if actions don't speak.
Leaders help create and nurture the company culture. It's important that organizations clearly state their code of ethics and organizational values, and of course, management needs to abide by this - walk the walk. Management needs to convince employees that the content in their ethical structure and organizational values isn't just random meaningless words. Employees need to know that the code and values are important to the daily operation and attitudes throughout the organization.
When companies operate in an economically, socially and environmentally responsible manner, and they do so transparently, it helps them succeed. Management and mitigation of social and environmental risk factors are increasingly important for businesses to succeed abroad, as the costs to companies of losing that social license, both in terms of share price and the bottom line, could be significant. As many firms take advantage of global opportunities, there is an increasing understanding that incorporation of responsible business practices into investments and operations abroad not only benefits the local economies and communities, but makes good business sense.
Undertaking socially responsible initiatives is truly a win-win situation but you'd better make sure that everything is spelled out correctly. Coupled with your code, and everything it covers, is your compliance program. Effective compliance programs promote a culture within an organization that encourages ethical and socially responsible conduct, and a company-wide commitment to adhere to the law. Effective compliance programs should protect an organization's reputation, brand, relationship with investors, protect assets, and help in the detection and prevention of misconduct.
Download an eBook on best practices to building out your compliance program.

Source: