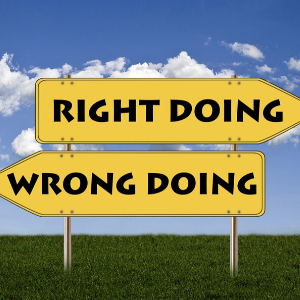 When we think about whistleblowing, many of us will think of someone who is a hero, or a person with conscience.
Others, undoubtedly, think of someone who is a snitch, or a tattle tale.
What we choose to believe is based on our psychological make-up, what makes us human. It's based on our own mental and emotional states.
In a recent Ted Talk by Tom Mueller, he delves into a couple of whistleblowing stories - what made people come forward to begin with to report something wrong, and what were the repercussions of them coming forward.
These people chose to speak up loudly and clearly about wrongdoing. In one story, a potential tragedy was diverted. In another story, although whistleblowers came forward, they didn't report to the right people, and this resulted in a loss-of-life tragedy.
But ultimately, both these stories ended the same way for the whistleblowers. There were repercussions.
And these repercussions often fuel the decision for many on whether they want to blow the whistle, or remain silent.
In one story, two employees felt the need to speak out about an extreme safety hazard at their place of employment.
They went to their bosses. Nothing.
They went to their boss's bosses. Nothing.
They went to regulators. Nothing.
So they went public.
And in doing so, they diverted a catastrophe that could have wiped out a huge population in the Pacific North West.
For their efforts in saving millions of lives, they were rewarded with retaliation from within, followed by public humiliation, followed by demotions, followed by losing their jobs.
The only reason they spoke out publicly is because the internal channels available to them to bring forward concerns got them nowhere.
Why do we continue to make whistleblowing so hard for people? Why do our actions continue to plant a seed of doubt into many people who feel the need to come forward to report wrongdoing?
When you hear the story of these two whistleblowers, you will likely come to the decision that they are heroes. After all, they saved lives, and to boot, uncovered a huge fraud in the process.
Yet the reality is, for many, how we salute their acts of coming forward, differs greatly to what happens to them in real life.
Although many whistleblowers are shunned by their companies for coming forward, many more are celebrated.

Our IntegrityCounts platform helps our clients promote ethics and integrity within their organizations, and enables their employees to speak up anonymously, and in a safe place.
Our clients believe in the power of employee feedback, and so do we. That's why we've created a system that is easy, yet powerful, to use.
True whistleblowing means embracing your employees who come forward with concerns.