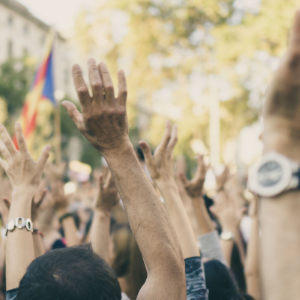 People today are not shy about expressing their feelings when it comes to something they feel very passionate about.
Gone are the days of keeping quiet about a company's political agenda or leadership views - especially if agendas and views are seen as propaganda or ethically wrong.
Today's employees will join unanimously to speak out if they feel their employer has completely crossed an ethical boundary.
Take the recent walkout of Wayfair employees over their employer's selling of hundreds of thousands of dollars of bedroom furniture to a government contractor that operates immigration detention centers on the US and Mexican border.
Employees are outraged that their employer would support such a globally-criticized human crisis.
Is it an outlet to express feelings of frustration and dismay with the company?
Should it be an outlet to express feelings of frustration and dismay?
Is it civil disobedience where retributions should be handed down?
Well there's no denying the fact that companies world-wide are slowly moving towards ever changing work ethics - whether on their own volition or not.
Gone are the days of silently accepting how a company operates - 'this is how we do things around here'...
No longer are employees sitting back and letting a company get away with what they see as questionable activities.
Should companies be answering back to rallying employees who take a company-wide protest in an attempt to reign them back in?
Or should companies start accepting that employees today have differing views on policies and processes compared to their grandfathers from decades ago.
And I'd say grandmother's views here too, but decades ago they weren't working - hence times are changing, and employers need to keep up.
In a Forbes post, a very good argument is made.
If Wayfair stops selling furniture to the government contractor, that contractor will only go to the next furniture seller (who will also likely experience mass employee protests). And if all refuse to sell their product, the detention centers 'are left scrambling for supplies in an environment already defined by scarcity'.
No matter your view on how companies like Wayfair should continue with operations like this, the fact can't be ignored that a new era of speaking up without fear is upon us.
It's inevitable - older employees are retiring.
New and younger employees are joining companies with very differing ideas, values, and morals.
Companies can't ignore this!
No matter what, employers need to start embracing this changing time if they want to continue with business. Speaking up without retribution is the new normal.
The Wayfair employee walkout will become old news, and be replaced with the next employee protest over questionable ethics.
Let's hope that the next company has made the effort to promote a speak-up culture for it's employees.