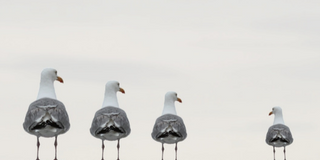 Pink Shirt Day is celebrated on various dates around the world. Today, February 28, we're celebrating it in Canada.
How did it start? Some highschool kids in Nova Scotia, Canada witnessed a Grade 9 boy being bullied for wearing pink to school. Thee highschool kids took a stand against the bullying. They protested by distributing pink t-shirts to all the boys in their school.
Today, many employees are wearing pink to protest bullying in the workplace too.
Research from a survey, out of The University of Phoenix, found that almost 75% of employees had been affected by workplace bullying, whether as a target or a witness.
What does bullying and harassment look like?
Verbal abuse
Offensive conduct/behaviors (including nonverbal) which are threatening, humiliating, or intimidating
Work interference - sabotage - which prevents work from getting done.
One isolated incident does not constitute workplace bullying. Bullying behavior is generally:
persistent and prolonged in nature
carried out by one or more persons against one or more targets
conscious behavior with the intention to harm the target
has a devastating influence on the emotional well-being of the victim or target
The affects of bullying and harassment can be quite harmful to an organization - just like any other misconduct including fraud, substance abuse, and theft:
Increased absenteeism
Increased turnover
Increased stress
Increased costs for employee assistance programs, recruitment, etc
Increased risk for accidents / incidents
Decreased productivity and motivation
Decreased morale
Reduced corporate image and customer confidence
Poor customer service
So here's our challenge to you. Do you have a speak-up culture where your employees feel safe to report on bullying and harassment?
If 75% of employees are affected by workplace bullying, do they feel safe to come forward to report on it?
Do they have a confidential place where they can report?
Don't wait for something bad to hit the headlines.
It starts with small steps in the detection and prevention of bullying and harassment.
Have you provided your employees with the tools they need?