You've Heard the Slogan 'Truth in Advertising', Right? Here's the Latest 'Oops'!
Anheuser-Busch, the makers of one of the country's most popular beers is under fire after a photo surfaced of a bottle of beer with the phrase "The perfect beer for removing 'No' from your vocabulary for the night".
The line is one of 140 different messages seen on bottles that are part of the beer's "Up for Whatever" campaign. Now, the 'No' message is branding the beer as the 'date rape beer'.
For all intents and purposes, I'm quite sure the brand meant well when coming up with this campaign. I bet they never really saw the negativity coming with this particular beer bottle print. Or should they have?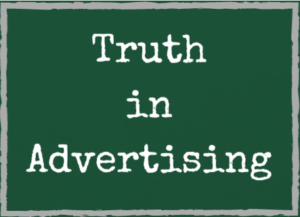 This made me ponder the advertising policies that exist in companies manufacturing consumer products.
All of these companies will have policies and procedures in place designed to be a central guide and reference for users in support of day-to-day decision making, meant to clarify an organization's mission, values and principles, linking them with standards of professional conduct. They can be used to locate relevant documents, services and other resources related to ethics within the organization. One such document would be the advertising policy.
The purpose of an advertising policy is to outline the standards by which an organization conducts its advertising. Advertising may be defined as the source and methods used to promote a company's brand and products. This could include commercials, news releases, announcements, logos, and printed materials created for use in a variety of venues including TV, radio, print, and other locations.1
Advertisers have to be really careful to act ethically at all times, specifically taking extra care when advertising to children, advertising potentially harmful products, and when using psychological tactics to stimulate demand. Having a list of ethical and legal issues at hand when creating advertisements can help companies create legal and responsible advertising messages.2
A few requirements set out by the Federal Trade Commission are as follows:
Truth in Advertising - Advertisements must be truthful, not deceptive and not unfair.
Advertising to Children - Don't encourage children to develop negative self-images or get hooked on products that can impede social development.
Advertising Harmful Products - Eg: Cigarette advertising is not permitted on television and radio, but alcohol advertising is allowed on all media.
Advertising Tactics - Consumers will be more attracted to companies that do not use underhanded, psychologically manipulative tactics to gain their business.
We live in a society based on policies - how to drive your car, how to file your taxes, how to register your child for baseball. A company's policies are put into place to maintain order and consistency in the workplace. Policies and codes offer an opportunity for responsible organizations to create a positive public identity for themselves which can lead to a more supportive political and regulatory environment and an increased level of public confidence and trust.3
Ensuring that all business goings-on are conducted by the rules outlined in a company's compliance program, could mean the difference between a cute 'lost dog' superbowl commercial , and an 'oops' marketing campaign. I suppose it could happen to the best of them... but doing your due diligence is probably smart also. Find out more here.
[citesource][source]1http://www.nmlottery.com/about/policies/advertising-policy.pdf[/source][source]2http://smallbusiness.chron.com/list-ethical-legal-issues-advertising-11466.html
[/source][source]3http://www.ethics.org/resource/why-have-code-conduct[/source][source]http://www.nydailynews.com/life-style/eats/bud-light-apologizes-ad-campaign-article-1.2202550[/source][source]http://www.ethics.org/resource/why-have-code-conduct[/source][/citesource]