7 Reasons You Shouldn't Implement A 3rd Party Ethics Hotline
April 1, 2016
Amanda Nieweler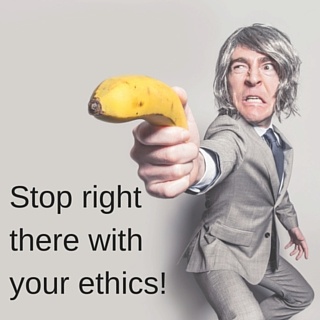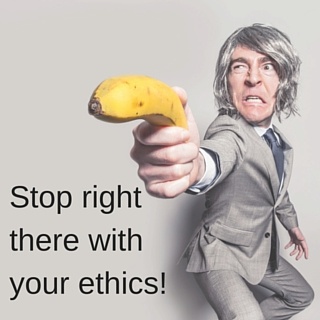 Seriously, who needs an ethics hotline?
Ethics? That old chestnut?
Really, it's just a thing that businesses need to adopt because 'everybody else is doing it'.
A fad like Vogue (pose not magazine), this thing will run its course right?
I mean who has time for all the [third-party does everything for you] work that comes with setting up an ethics hotline? Checking off that "we've got a thing called ethics" checkbox... we're so cool...
Seriously, all that hype about companies who don't have hotlines and anti-fraud controls that suffer twice as much loss compared to those that do have controls in place (you can read the hype here).
~Rolling eyes~ Puleeze!
If you're looking for an easy-out, a way to ixnay that whole ethics convo, then look no further. We understand your 'perception' that ethics is a non-issue in your company of 300 scattered all over the globe.
We've outlined 7 reasons not to implement an ethics hotline. Now you'll have a little more ammo to state your 'we're not changing - we've been doing things the same for years and it hasn't hurt anybody... yet' case. And you're welcome!
You don't suffer ethical & legal violations
You know what's going down, from the top floor to the bottom. You know the in's and out's of the accounting books right down to the last pen purchased and for whom it was purchased. You've got it down so pat that you even know how fast the washrooms runs out of toilet paper, and when it is restocked. Your employees wouldn't dream of leaving the office with a roll in their bag.
And that whole open door policy thing that's sweeping the nation? Well your employees just know, they just know. Your door always sits open at a 45 degree angle. It doesn't matter that your office is situated on that other worldly plane, that elusive top floor inside 'executive row' where the clicking of heels around the corner belonging to an executive would have other company's employees wilting in fear. Obviously employees shouldn't be fearful when the elevator finally delivers them to this exotic floor on the top. So they obviously know they can just enter your office any time and voice any concerns they have relating to fraud and other unmentionables. They just have to consult their floor plan map first to find your office.
What's that you say? Nobody comes in to report anything? Then there's obviously no misconduct happening to report.
You're totally accessible to everyone
You have all the time in the world. You look forward to coming into work everyday and seeing your phone, email and fax machine light up with complaints from all your locations. You get a kick out of trying to decipher those messages that come in from non-English speaking countries. After all you've always wanted to learn new languages.
You also have the time to hear from customers and vendors at various hours of the day about complaints they have. If someone wants to report an incident to you they don't need to book an appointment between your management meetings and your weekly off-site visits. Because you are always available to listen to reports of ethical violations!
And there's no worry about your employees who work in a different time zone. They can just call and leave a message. Just remember to clear your voice mail first. It can get full fast.
You meet regulatory requirements
If regulators come knocking on your door, you're confident that whatever they need, you've got. You just need to take the time to organize all that information into something that would pass an inspection. And as the receiver of all things complaints, of course you've taken the time to log every eensy detail of each complaint right down to the second the complaint came in, to second it was investigated, and every conversation in-between, right?
What's that you say? A complaint came in from the other side of the world while your offices were closed and there's a message on your almost full voice mail? That's okay, you can call back now and leave a message because their offices are now closed too. At some point you'll connect. Just remember to write down the exact time. Regulators need to know this.
And don't worry. While you're playing phone tag for the next week the misconduct in question shouldn't be escalating too much...
You totally know how to keeps things anonymous
Anonymous is your middle name. I think we've already established your 45 degree open door policy on the elusive top floor of 'executive row'. So it goes without saying that employees know they can freely step into your office whenever they want, seat themselves in that incredibly comfortable chair on the opposite side of your desk (it sits a little lower than your chair so you're sort of sitting higher than them) and spill the beans on their co-workers.
Right?
The fact that you know who this person is sitting opposite you is irrelevant. The fact that they are saying something negative about the co-worker you're quite close to is also irrelevant. You know that your employees have absolutely no reason to be nervous about this situation at all... and they totally won't downplay the seriousness of the incident in question because you're kind of buddies with the perpetrator of said incident.
You're not worried about damaging exposure to the company
Those poor companies from past scandals. Scandal and messy business will never happen to your company so you're not worried about the company's, or your, reputation littered across every gossip magazine lining every shop shelf. You know exactly that every single one of your 300 employees would never so much as think of engaging in misconduct, accidentally or not.
It just doesn't happen to companies like yours.
You'd rather not spend the [very small] dollars on an external system
You'd rather save the very small thousand dollars a third-party system would cost because you've already established a system and put it in place (and that's great!). Employees know they can come to you, or phone in from other parts of the world. You may have to Google Translate all the non-English complaints that come in (congratulations you're learning Urdu, or is that Arabic? You'll figure it out eventually). Besides third-party providers tack on translation as an extra cost (we don't really) so your few thousand dollars would keep getting higher.
The presentation edits for the CFO can wait. The meeting with investors can be pushed to another day...
Wait, those meeting are important. You may have to leave your employees' ethics complaints for another day. Take your time. How fast can fraud possibly escalate every day it's not stopped in its tracks?
You adhere to your Code
You follow your Code of Ethics to a "T". You're pretty sure that every employee gets handed a copy of the Code with their on-boarding package when they start.
You and your employees know what is acceptable conduct. The Code was read once so there's no need to read it again. What could possibly go wrong? Wrong only happens to other companies.
And all that data that's been pulled on anti-fraud controls and policies and the use of ethics hotlines? You don't need to worry about that. Because bad stuff won't happen to your company.
So there you have it. All the reasons you need to avoid implementing an ethics hotline.
We suggest you also don't download an eBook explaining all the cool stuff about implementing a third-party ethics hotline.
Happy April 1st. If you believe all that, you should be very worried indeed!